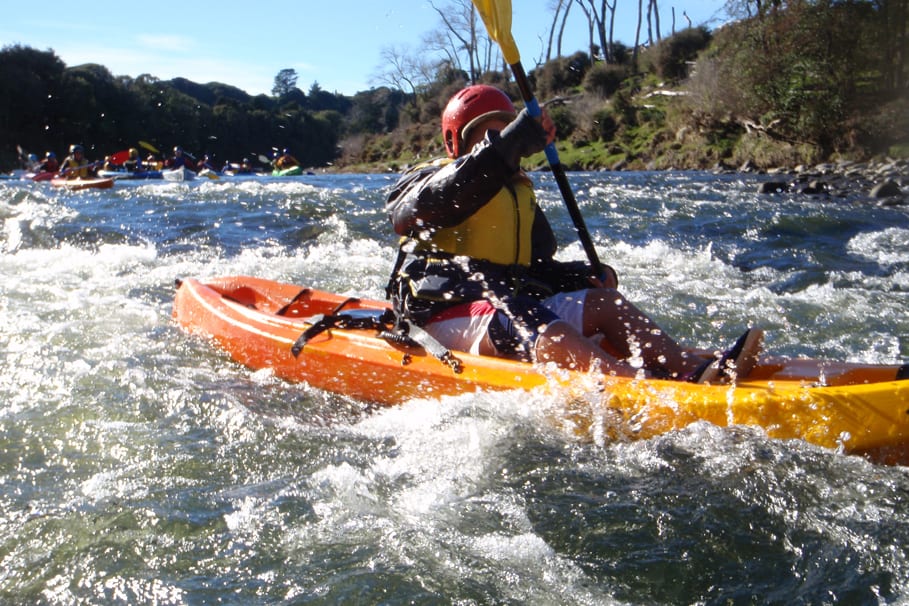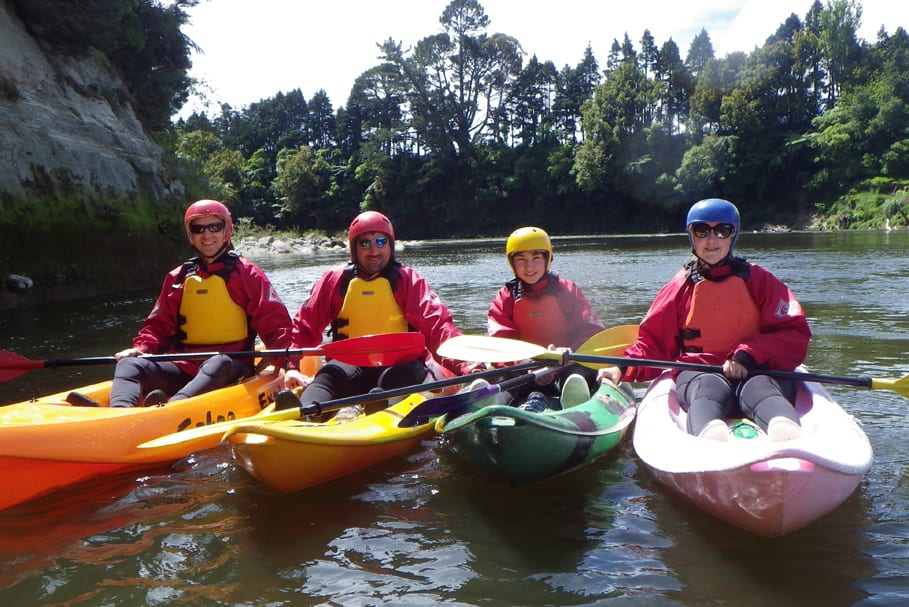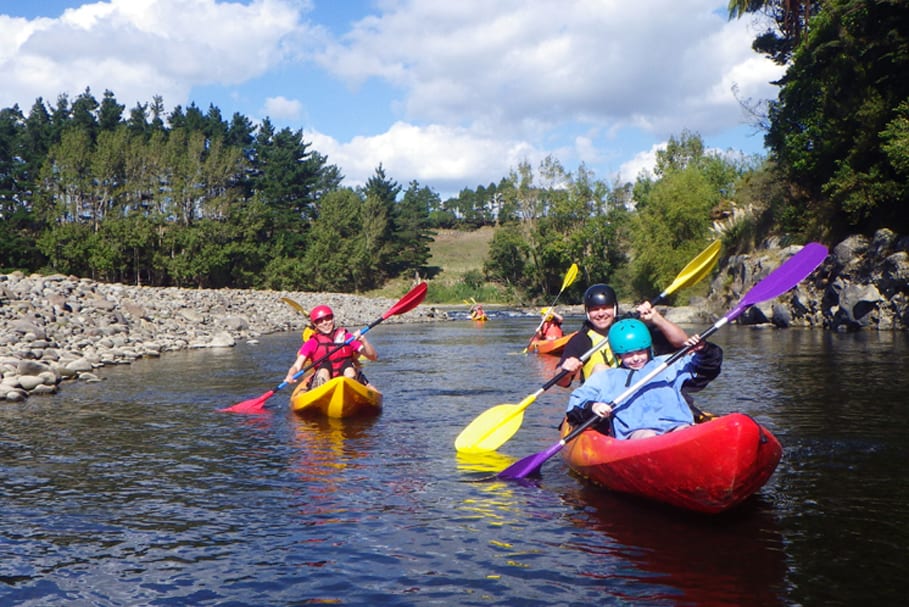 Waitara River Kayak Tour
$110 per person
Tours are run on demand, minimum numbers apply.
For those slightly more adventurous at heart, this is a scenic trip with exciting grade 2 rapids. The lower part of the Waitara River is very safe and an ideal introduction to the thrill of white water paddling.
Kayak Tour Details
Allow three and a half hours for this kayak tour.
No previous experience is necessary, but a reasonable level of mobility and fitness is required.
Kayak tours are run in suitable river levels.
This kayak tour is suitable for children 6 years and over accompanied by an adult, or 10 years old on their own.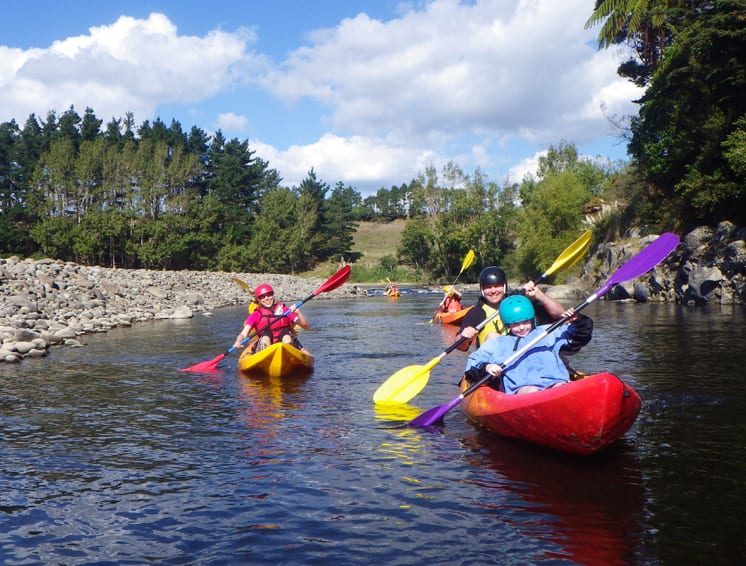 What's Included?
All kayaking and safety equipment
Wetsuits and booties are available if you don't have your own
Stable sit-on-tops are used
All tuition from our experienced qualified kayak guides
Snacks
FREE digital photos and a guaranteed great time!
Departure Times
Departure is at either 9 am or 1 pm.
Meeting at the 'get out' is preferable, or we can do a pickup and drop off from Canoe & Kayak Taranaki – 468 St Aubyn Street, New Plymouth.
What to Bring
For kayaking bring swimming clothes and warm extra layers– polar fleece, merino or polypropylene – do not wear cotton. Wear well-fitting wet shoes or old sneakers.
Also bring water, sunscreen, sunhat, personal medication, and sunglasses.
Once the tour has finished have a towel, change of warm clothes, thermals, fleeces etc.
Safety Terms and Customer Declaration
In any adventure activity, there is an element of risk involved. Risks in undertaking this activity include drowning, illness as a result of adverse weather conditions, water damage to personal belongings, and contact with wildlife.
The Staff and management of Canoe & Kayak take all practicable steps to identify and mimimise potential dangers. However, you must follow our instructions and use the provided safety equipment at all times. Adults accompanying any person under the age of 18 must ensure the underage person follows our instructions at all times. You must release or indemnify Canoe & Kayak and our staff against any liability we incur to anyone else, resulting from your failure to follow our instructions or the failure of any person accompanying you under the age of 18 to follow our instructions.
We reserve the right to withdraw any person who in our opinion is likely to endanger themselves or others. We also reserve the right to cancel the tour if we become concerned for any reason for your safety or that of any other person.
WARNING: Under New Zealand law it is extremely unlikely that you will be able to sue anyone if you are injured. In Addition, New Zealand's accident compensation scheme provides only limited assistance to visitors to New Zealand who are injured. We strongly recommend that all visitors to New Zealand have full insurance covering any injury they might suffer, including medical treatment cover, before undertaking this activity.
EXCLUSIONS: To the extent permitted by law, all our liability for damage to your property, disruption to travel plans, or mental injury is excluded. This exclusion is subject to any rights or remedies you may have under the Consumer Guarantees Act 1993.
Please notify us of any medical conditions or other information we need to know to include you safely in this activity. For example: asthma, allergies, heart conditions, epilepsy, or pregnancy.
You are entitled to access any information we hold about you or to request its correction at any time.
Fantastic afternoon trip on the Waitara River. Our 2 girls aged 10 and 8 had an awesome time and my eldest had her own kayak, the rapids were great. Peter, our tour guide was awesome, would highly recommend this trip.
Tours are run on demand, minimum numbers apply.
To Book 
Please call 06 751 2340
or email taranaki@canoeandkayak.co.nz
We took our 3 kids (10, 12, 18 years) on a half-day trip down the Waitara River with this group, and it was fantastic! The guides were very safety conscious, gave clear instructions, and were friendly and encouraging at all times. It was a great mix of action, relaxation, fun, and challenge and we would highly recommend this company to anyone. We'll be back again soon for another fantastic outing!
School or Business Groups – Please contact us for a quote.
Tours are run on demand, minimum numbers apply.
Please contact Canoe & Kayak if you are in any doubt as to whether it will be running.
Bookings essential.