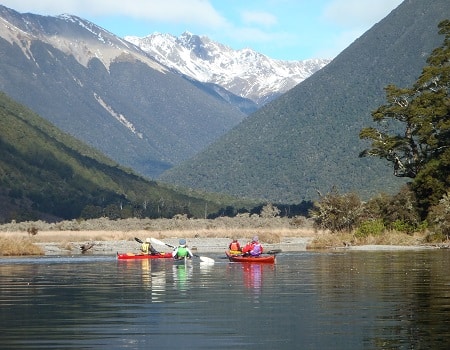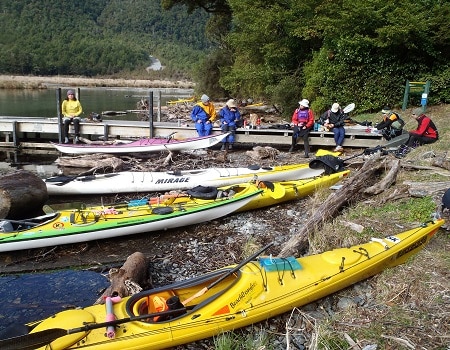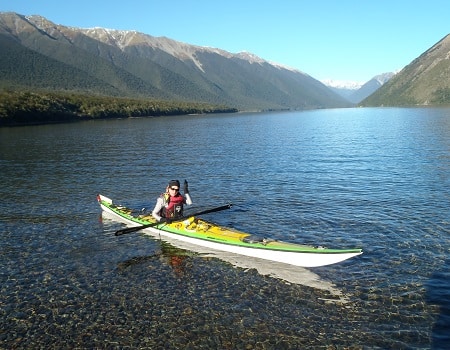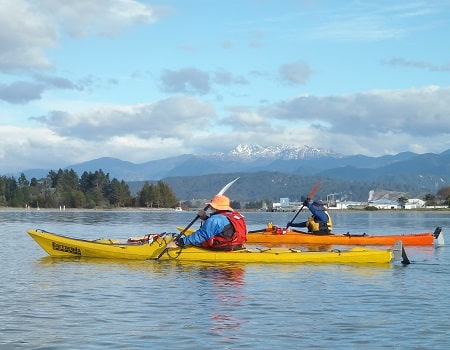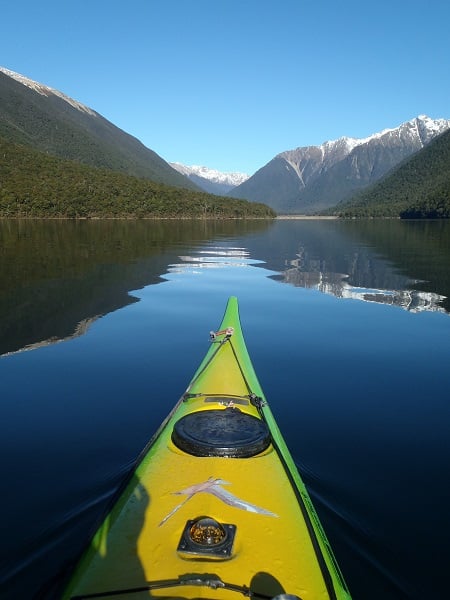 Cold Tips
By Ruth E. Henderson
When the water in the bowl inside the chook house freezes solid you know it's going to be cold out on the water! It was June. We were house-sitting at St Arnaud on the shores of Lake Rotoiti within the Nelson National Park and I was linking up with the Nelson Canoe Club for the second time within a fortnight.
Serendipity, a chance meeting on the water at French Pass, in March had already connected me to Jo Kay, their President. So, I'd come forewarned of their trip program and armed with kayak and warm paddling kit, including my newly acquired Sharkskin's: beanie to socks with the Chillproof – Climate Control long-sleeved top and long pants in between. For my hands I had my old standbys – disposable vinyl gloves under poly prop gloves and pink dish-washing gloves as a back-up. She'd be right!
On the shortest day of the year, fourteen of us met at Kerr Bay, Lake Rotoiti. Most of the Nelson folk had driven down the afternoon before and stayed at one of the bachs in this alpine village. At 8.00 am it was minus 4.7 degrees. The frost was crunchy on the grass, on the stones at the lake edge, on cars, on the tie-downs, on kayaks and inside the kayaks – if no cockpit cover was used! Before we'd even launched, I was rueing my cavalier approach to my hands. I hadn't appreciated how cold minus 5-degrees rising to plus 5-degree days were.
As we were unloading, under the woolly hats and puffer jackets it was a surprise to recognise ex-Yakity Yak North Shore paddlers Chris and Karen Tews who had escaped Auckland, and were loving the tramping, cycling and kayaking opportunities on their doorstep. The sun peeped out, the water was calm, but that wee breeze was bloody freezing my mitts off. With a Greenland paddle there was no way I could have dry hands. With such a slim covering there was no way I could have warm hands. My upper extremities were in pain. A contrast to the rest of me.
We stopped at Whisky Falls for a coffee and walk, then headed for Cold Water Hut at the head of the lake where some intrepid paddlers had stayed the night. Basking in the sun on the jetty my hands unthawed, a bit. On the return trip we travelled alongside the St Arnaud Range's hanging valleys and stony beaches. The bellbirds had warmed up and provided us with a song or two, but the only tune my hands were listening to was pain. I've now got some Sharkskin gloves.
Cold Tips for camping and kayaking in cold conditions (gained in Alaska and in NZ).
Jackets – if you can tolerate neoprene/ latex on your neck and wrists – whitewater jackets certainly keep your arms a lot drier. The wrist gasket stops the dreaded under arm trickle.
Trousers – for around camp, the "Swazi" pants with their waterproof knee and bottom patches are fantastic, for sitting and kneeling, as you do, when cooking or setting up camp. And the stockist, Haddad's outdoor clothing shop in Otorohanga shop is a fun place, a shopping experience, well worth a detour.
Dry suits – they look like 'full-body armour' and a struggle to get into, but those who use these swear by them. You can add numerous layers underneath and even after multiple dunkings or
rolls, emerge dry!
Neck – A "Buff" not only protects your neck and face from sun and wind, but stops delicate skin getting irritated and scratched from the Velcro neck fastenings of paddle jackets. Alternatively
try a balaclava.
Head – a warm head is essential. Wool is good, and cosy when dry. The Sharkskin beanie is not bulky and fits well underneath a wide-brimmed rain or sunhat and dries overnight.
Hands – disposable vinyl surgical type gloves or washing-up gloves work well in the Waikato but are not adequate at minus 0-degree temperatures. I've seen poggies work well on European paddles, but when you are used to a Greenland paddle and sliding your hands along the shaft and blade, they would take some adjusting to. Buy proper paddling gloves. The thumb and two finger-less ones are designed for the likes of fishermen who need to do fine work…but I'd recommend five fingered ones for paddling.
Feet – Put socks (woollen or Sharkskin) on before your long pants, then slip into your booties. In this order, it's a lot easier to pull off your tight ankleted pants at the end of the day. If you can find a plastic bag these days… slipping those on before you pull on wet booties, keeps your toes toastie, as long as you can launch without getting water over the top of your booties. If you do get ice inside your booties, a trick I witnessed on the winter "Kayak for Child Cancer" expedition, was to pour hot water into them. Around camp, even in summer, with long wet grass, use gumboots. In Alaska we used gumboots (called Alaskan tennis shoes) as booties. Maybe not 'safe' in a capsize, but at least you had dry warm feet when the water Lake Rotoiti vista at launching was not just icy-cold but had ice cubes in it.
(Recommendation to 'Reed' and 'Sharkskin' – put an orange or red stripe or flash on your small gear. It's hard to find black beanies, gloves and socks on the floor of a tent in the half-dark, or in
the depths of a dry bag.)
Kayak – in your boat, line the area under your legs and feet with your inflated "thermorest" sleeping mat. I learnt this trick in Alaska. Use a cockpit cover to keep out the rain, frost, snow… and to provide dry storage for bulky gear such as your buoyancy aid when camping. Use this both on and off the car. Use a carabiner or tie to attach it to your deck bungies when travelling…. just in case it decides to take up flying.
Tent – Putting a tarp underneath your tent will help not only protect the floor from sharp objects but give you an extra bit of insulation. Make sure it doesn't extend beyond your fly, as if it does, you'll be soon floating on water if it rains. An inflatable, foam or down mattress, the thicker the better, is beneficial not just for achy bones but warmth, insulating you from the cold earth. Air mattresses can become very cold. Some folk carry an old-fashioned hot water bottle, or a mini version of one, complete with a furry jacket. My latest trick is to put boiling water into my stainless-steel water bottle and then wrap it in an item of clothing. The next day I have cold, boiled water to drink; a damp top gets dry, and my sleeping bag gets cosy. N.B. This doesn't work with the thermos-styled water bottles.